SUBMETA SEU BLOG - SUBMIT YOUR BLOG
Olá, este é meu modesto diretório de blogs gays. Para fazer parte, basta colocar o meu banner ou um link meu em seu site ou blog e enviar um e-mail com seu banner no tamanho 120x60. Diga em qual categoria seu blog se enquardra ou sugira uma que ainda não tenha aqui.
Hello, This is my humble Gay blog´s Directory. For submit your blog, you need first, link me at your blog or site and after, mail me with your banner size 120x60. Say what the category your blog is or suggest a new category.
envie um e-mail para blogbrancoativonegropassivo@gmail.com
Send me e-mail at blogbrancoativonegropassivo@gmail.com
.
AFRICAN MEN
ASIAN MEN
BDSM
ESRCORT
GAY CULTURE
INTERRACIAL
MIXED BLOGS - BLOGS MISTOS

PORN STARS
SPORT GUYS
EURO MEN
------------------------------------------------------------------------------------------------------------------------------
AGREGADORES - SHARING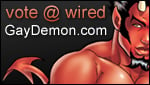 DIRETORIOS - DIRECTORY